Columbia County, FL uses javascript to enhance its website and provide the public with useful features.
Because of this, many features will not work. Please enable javascript in your browser to get the best possible experience while on our site.
Building permit fees will increase on June 1, 2021.
Applications submitted after May 7, 2021 will be charged using the new fee schedule.
| | | | | |
| --- | --- | --- | --- | --- |
| Per Permit Multiplier* | Single Family Dwelling 2200 Square Foot** | Commercial $85,000 Job Cost*** | Re-Roof's & AC's $15,000 Job Cost**** | Storage Buildings $16,000 Job Cost*** |
| Current - $5.00 | $ 935.62 | $ 635.53 | Minimum - $79.00 | $ 194.00 |
| at $ 8.00 | $ 1,443.00 | $ 961.25 | Minimum - $104.00 | $ 254.40 |
| $3.00 Difference | $ 507.38 | $ 325.72 | $ 25.00 | $ 60.40 |
* The $5.00 permit multiplier was adopted by Ordinance 74-3 with the Southern Standard Building Code and has never been increased.
** The average square footage of a homes permitted during fiscal year 2020.
*** Average cost of storage buildings permitted during fiscal year 2020.
**** Jobs that cost up to $15000.00 are charged the minimum permit fee.
NOTE: Above figures include applicable permit fees combined.
Significant Changes to Roofing Requirements 7th Edition 2020
The 7th Edition (2020) Florida Building Code includes several key changes to the requirements for roof assemblies. Many changes strengthen the code to improve the resistance wind and water infiltration damage. Several of the changes apply to both new construction and roof replacement. The Fact Sheet below provides a summary of the following key changes.
(PDF) Significant Changes to Roofing Requirements 7th Edition 2020
---
Who do I call for permitting and zoning questions?
First, you must know what jurisdiction the property is located.
To answer that question, visit the "Jurisdiction Search" page and search by address or parcel ID number.
A phone number will be listed for who to call based on the juridiction of the property.
---
How do I find out the status of my inspection or schedule an inspection online?
You can both schedule an inspection and see the status of a recent inspection by visiting the inspection request page.
---
Search, Print, Export and Map Records
*All Building permits from 2003 are shown through this search. We only retain residential paper records for 10 Years.
---
Submit Building Permit Applications Online *New*
You can now submit building applications for permits using the Building Permit Application portal or login to view existing applications.
---
Submit Zoning Applications Online *New*
You can now register and upload Zoning Applications using the Planning and Zoning upload portal..
---
Download Documents
Please click on a category to expand/collapse downloads for that category.
Applications
Concurrency
Contractor License
Documents
Fee Schedules
FEMA Publications
Flood Publications
Letter of Map Amendments
Maps
Utilization Report
Zoning Applications
The Building Inspection Office
Visit the page to request an inspection online
.
The Building Inspection Office is responsible for the examination of building plans and specifications to insure structural soundness and conformity with the adopted building codes and the issuance of building permits. The office is also responsible for the review of applications for mobile home permits. On site inspections are made at several different times during the building process to insure that construction or installation is in compliance with all adopted codes. The office also answers any code questions that may arise either by telephone or personal contact. The Building Department is also responsible for the licensing of contractors and specialty contractors within Columbia County; this is done through the Competency Advisory Board.
Request Inspection By Phone
Before calling, please make sure you have ready:
your permit number
the inspection needed
the date requested
For culvert or a culvert waiver inspections call
386-758-1019
.
For septic release needed for permanent power call
386-758-1058
For building permit inspection call
386-719-2023
.
For after hours inspections call
386-719-2023
.

NOTE: After hours inspections will be received the next business day, then scheduled for the following business day. Emergencies will be inspected as soon as possible.
Must give 24 hours notice

Columbia County Competency Advisory Board
Chairman - David Mangrum
Walt Graham
Todd Hunt
Harry Moseley
Terry Zierke
These boards meets every fourth (4th) Monday of each month at 1:00 p.m. at the Columbia County Administrative Office:
135 NE Hernando Ave Suite B-21
Building Zoning Department




Columbia County Board of Adjustment and Planning Zoning Board
Position
Member
Chair
Teena Ruffo
Vice-Chair
Jock Phelps
Member
Earl Peeler
Roger Busscher
County Planner
Planning Technician
Brandon Stubbs - (386)754-7119
Liza Williams – (386) 719-1474
County Attorney
Joel Foreman - (386)752-8420
Planning and Zoning provides various services to the County which entails providing technical, professional and administrative support to various boards, Board of Adjustment, Planning and Zoning Board, Board of County Commissioners and the general public. This department implements and enforces the Columbia County Land Development Regulations, monitors and updates the County's Comprehensive Plan.

The board meets every fourth (4th) Thursday of each month at 6:00 p.m. at the Columbia County School Board Administrative complex:
372 West Duval Street
Lake City, Florida 32055
Now you can download meeting agendas and minutes directly from our site. To view a listing of current and previous months meetings, please click the link below.
---
Property Map Explorer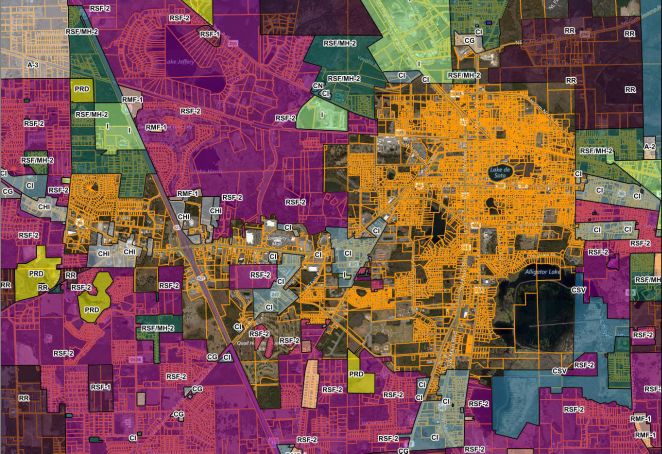 Visit map explorer page

Check FLUM, Development Zones, Flood Zones and more...
Contacts
Building & Zoning Department
Hours:
Monday-Friday
8:00 a.m. - 5:00 p.m.
Location:
135 NE Hernando Ave.
Lake City, FL 32055
Mailing Address:
Post Office Box 1529
Lake City, FL 32056-1529
Office Phone:
(386) 758-1008
(386) 758-1124
Inspection Request Line:
(386) 719-2023
Building & Zoning Director
Troy Crews, CBO
(386) 758-1040
Email
Building Inspector
Matt Forsyth
Cell: 386-623-0168
Email
Building Inspector
Anthony Aslan
Cell: 386-623-6371
Email
Fax:
(386) 758-2160
Email:
Building Department
Related Links