Columbia County, FL uses javascript to enhance its website and provide the public with useful features.
Because of this, many features will not work. Please enable javascript in your browser to get the best possible experience while on our site.
Looking for the Building Department? Building Deparment home page
Planning and Zoning provides various services to the County which entails providing technical, professional and administrative support to various boards, Board of Adjustment, Planning and Zoning Board, Board of County Commissioners and the general public. This department implements and enforces the Columbia County Land Development Regulations, monitors and updates the County's Comprehensive Plan.

Guide for Subdivisions
Florida Statute 177.031:
(18) "Subdivision" means the division of land into three or more lots, parcels, tracts, tiers, blocks, sites, units, or any other division of land; and includes establishment of new streets and alleys, additions, and resubdivisions; and, when appropriate to the context, relates to the process of subdividing or to the lands or area subdivided.
Guide for Recreational Vehicles
Columbia County has released a guide for recreational vehicles.
This guide answers many common questions regarding recreational vehicles such as:

What is a Recreational Vehicle?
Can I live in a RV on my property?
I have family coming into town, can they stay in their RV on my property?
Download the full brochure here
---
Guide to Home‐Based Businesses
Columbia County has released a guide for Guide to home‐based businesses.
This guide answers many common questions regarding recreational vehicles such as:

What is a Home‐Based Business?
What type of business can I have as a Home‐Based Business?
Can I obtain a separate address for my Home‐Based Business?
Download the full brochure here
---
Do you have a Zoning question about a parcel?
You may submit Zoning questions to the Zoning Department online. Seach for and find the address or parcel that you have a question about and click "Ask Question". Your question along with your contact information will be sent to the Zoning Department and answered promptly. Please be sure and provide a valid email address. After submitting, you should get an email about your question. Please allow 1-3 business days for a response.

Ask us your zoning question now
---
Search Zoning Permits and Land Development Regulations
---
Zoning Applications
You can now register and upload completed Zoning Applications online using the

Completed Zoning Application Upload Portal.
---
Columbia County Board of Adjustment and Planning Zoning Board
Position
Member
Chair
Teena Ruffo
Vice-Chair
Jock Phelps
Member
Earl Peeler
Roger Busscher
Laura Nettles
Community Development Coordinator
-
Code Compliance Officer
(386) 758-1038
County Attorney
Joel Foreman - (386)752-8420
The board meets every fourth (4th) Thursday of each month at 6:00 p.m. at the Columbia County School Board Administrative complex:
372 West Duval Street
Lake City, Florida 32055
Now you can download meeting agendas and minutes directly from our site. To view a listing of current and previous months meetings, please click the link below.
---
Property Map Explorer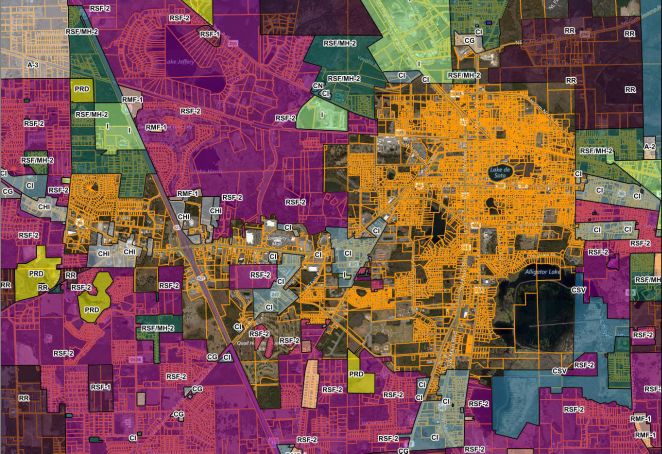 Visit map explorer page

Check FLUM, Development Zones, Flood Zones and more...
Related Links